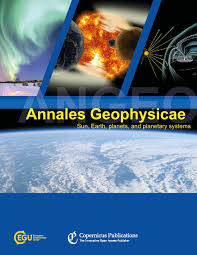 Dear all!
I am pleasure to inform you that the editorial board of the Annales Geophysicae has just approved our application for special issue to collect the papers presented during the last SBGEA meeting.
The special issue is schedule to start on 15 December 2018. You can submit your manuscript on the Annales Geophysicae website (http://www.annales-geophysicae.net) up to 15 May 2019.
During the registration process of your manuscript, it is important that the correct special issue is chosen. Please, note the title of the our special issue is "7th Brazilian meeting on space geophysics and aeronomy".
One advantage of the Annales Geophysicae Special Issue is that the publication date is not delayed by the latest paper that is behind in the peer-review process. Every individual contribution to the special issue is published as soon as it is available. The Annales Geophysicae is an open access and interactive journal, i.e., anyone around the world can read and comment on your paper, even before the publication. For Brazilian authors, it is important to consider that the Annales Geophysicae is increasing its QUALIS to Geoscience/Physics fields.
Please, note that the authors must provide the charges for the publication process. Authors from Brazilian governmental institutions, please, request the early invoice to the Copernicus Office as soon as the paper has been accepted and settle the payment before the publication, because Brazilian governmental institutions can not pay after the publication.
If you have any question, do not hesitate in contact us.
Best regards,
Igo Paulino
President of SBGEA